Effective Print Media Measurement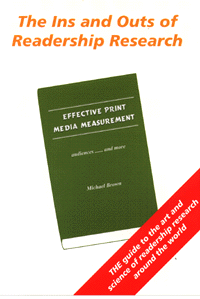 Published 1999. Hardback 224 pages. Price £90*
Effective Print Media Measurement is required reading for any media researcher who has to design surveys or comment on such matters. It is of value to any user of readership research who is interested in the way surveys are conducted and who wants to know how to assess different research solutions.
Audience research addresses much – though not all – of the information needs of publishers, advertisers and agencies. The commercial value of readership research findings is enormous. This book shows how the delivery of data to users may be as free from bias as possible.
In concise, elegantly-written prose, the author describes the objectives of readership research and looks at the design options. He deals with sampling and interview methods, average-issue-readership and alternative currencies, reading frequency, reading intensity, the needs and methods of ascription and fusion, research issues concerning internet-based publishing, and much more.
The book draws on the papers of the eight Worldwide Readership Research Symposia from 1981 in New Orleans to 1997 in Vancouver and is published to coincide with the ninth Symposium 1999 in Florence.
This book contains extensive notes and references, and an index.
Contents
Readership measurement objectives
Whom should we question?
Drawing samples
Collecting data
Surveys, panels and diaries
Average issue readership
Alternative currencies
Reading frequency
Reading intensity, place of reading, copy source and the reader/publication relationship
Questionnaire structure
Fieldwork and the interviewer
Filling gaps and marring surveys: ascription and fusion
Paperless publishing:internet measurement
About the author

Micheal Brown has worked in market research for more than 40 years, specialising in media audience measurement in general and readership research in particular.
On the formation of the (British) joint industry Committee for National Readership Surveys (JICNARS) in 1968, he was appointed as the first Technical Director and still serves as Technical Consultant to National Readership Surveys Ltd.
He was for 10 years president of EMRO, the association of European Media Research Organisations.
Michael has lectured and consulted widely in Europe, North America, the Far East and South Africa.
Summary of current readership research
Different readership research practices around the world are detailed country-by-country in such a way as to enable comparison between the various techniques used for the different national readership surveys.
The author of this 216 page report is Erhard Meier and contains full details of 62 Survey Practices in 49 countries and 56 Major Surveys amongst Special Populations.
Information is presented in six summary tables with short commentaries enabling side by side comparison of the surveys. It also contains detailed matrix by country and contact addresses of the organisations whose surveys are included.
Published 1999. Paperback 216 pages. Price £100
The Florence Session Papers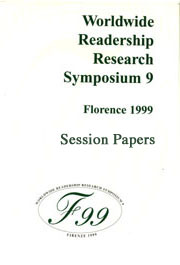 The nine symposia held to date between 1981 and 1999 have provided one of the leading international platforms for discussion of readership research. At each symposium approximately 55 papers including approximately 75 speakers from around the world share their expertise on current technical and development issues for print media research.
The Florence Session Papers Book includes papers under the headings:
Enhancing our Readership Methods – Problems Revisited
The Response Rate Challenge
Enhancing our Readership Methods – New approaches
Refining our Models
Print: Exploiting the Competitive Advantage
2020 Vision – Who will be Reading?
Web Measurement and Marketing
Web and Print: Synergy or Cannibalisation
Published 1999, Paperback 584 pages. Price £100
The Vancouver Session Papers
The Vancouver Session Papers Book includes papers under the headings:
International developments
Comparison of methods
Fusion and modelling
Technical Issues
Intermedia comparisons
Performance of media
Sections readership and Internet readership
Audience management, circulation and readership
Beyond AIR
Technology
Response Rates
Published 1997 Paperback 598 pages. Price £75