Four Or Five Days In The Heart Of Europe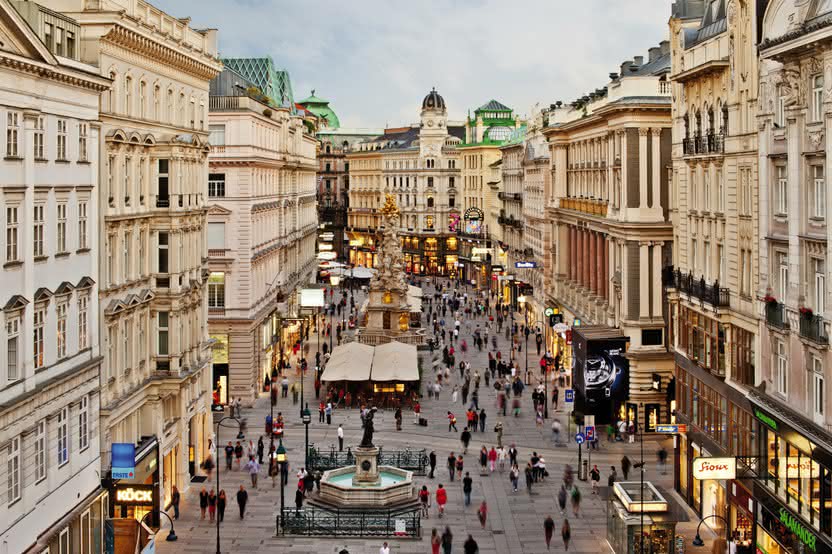 Strauss waltzes and Sacher Torte. Coffee houses and Wienerschnitzel, Habsburg Palaces, Secessionist buildings, Biedermeier furniture and stunning modern architecture too.
Vienna is the city of Freud, Klimt and Harry Lime. Wine cellars abound and even the odd beer cellar survives. Above all the city of music, with three Opera houses and the heritage of Haydn, Mozart, Beethoven, Schubert and many other composers…..not to forget the Vienna Boys' Choir! Truly there is something for all tastes.
The Grand Hotel is right in the heart of the city; the Staatsoper is next door as are the main pedestrian shopping streets, leading up to the superb Gothic Cathedral. As always the Symposium working sessions are intensive, but we have attempted to give you taste of what the region has to offer in the social programme. We will have receptions both in the old State Parliament building and the former coach house of the Hofburg. There will be a rare opportunity for a private visit to the beautiful Austrian National Library. The final evening's entertainment (and prize giving) will be a visit to a Heuriger in a country wine village. We will make some free time for you to explore the fascinating treasures of the inner city and the museum quarter on Tuesday afternoon 23 October.
The Grand Hotel was originally built in the 1860's, and this deluxe hotel has been completely reconstructed to meet the highest technological standards whilst keeping the traditional flair intact. It is situated in the city centre near all the well-known sights, restaurants & bars and the many shopping opportunities. We are currently putting together our customary Symposia accommodation packages with preferential rates – please check the website for more details as they become available.
More information about Vienna may be found on www.wien.info; www.wiener-staatsoper.at; www.wienmuseum.at; www.mozarthausvienna.at; www.srs.at.